Just look at her: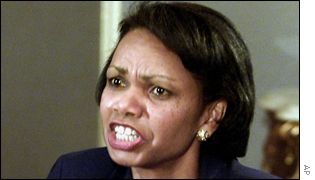 This is a cry for help, my fellow Americans. A "Condi Call" if you will. By the look on her grill, she needs us now more than ever. For just 10 cents a day you can help save a Condi. No, not a Condor, a Condi. If you can find it in your heart to donate, please do.
All proceeds will go toward the mental rehabilition of this woman and a thorough detox of the political corruption running through her veins. This is the result of years and years of denying her sistah-hood.
Will you help give her back her blackness?
Please make all checks payable to me.
Thank you,
Save the Condi Foundation, Inc.
"Only YOU can prevent a wack Condi"